News & Events
Barry Camp Scholarship winner announced
Congratulations Clark Cayer!
The Candia Conservation Commission awarded its 4th annual Barry Conservation Camp scholarship to Clark Clayer
Clark will attend the 2018 Conservation Camp 4-H On The Wild Side (age 10-16) in July where he will "Experience nature and reunite with the great outdoors. Paddle a canoe, fillet a fish and cook it over an open fire, sleep under the stars, learn how to observe nature, climb a mountain, swim in a pond, create nature crafts and more. Truly experience the great outdoors." Congratulations Clark!
Climate Change in New Hampshire: Connecting the Dots
A presentation at Smyth Library on Thursday, March 29 at 7 pm.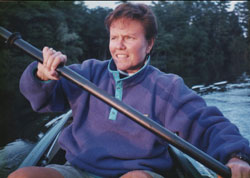 Fires in the west, flooding in Texas and Florida… drought, flooding and a blizzard in New Hampshire… are they connected? We will discuss the various climatic changes occurring across the globe, the country, and the impacts we are experiencing in New Hampshire. Local data from New Hampshire Climate Assessments, Mount Washington, and predicted future trends will be presented. We will connect the dots between the extreme weather events we are experiencing, what actions are being taken, and how we can all be better prepared.
This presentation will be given by Sherry Godlewski and has been arranged by the Candia Conservation Commission to be held on Thursday, March 29th at 7 pm at the Smyth Library. Refreshments will be served.
2017/2018 Newsletter Available
A publication of the CCC listing our ongoing and upcoming projects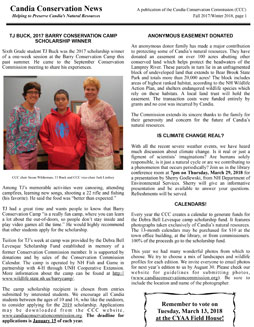 Our Fall 2017/Winter 2018 Newsletter is available now. Topics this year include our scholarship for Barry Conservation Camp, an anonymous easement donation, a presentation on climate change, our Old Home Day booth, town forest walks, and a note from our chair.
Candia Conservation Calendar
Pick one up at the library or town hall.
2018 Calendar On Sale Now. The 2018 Candia Conservation Commission Calendars are available for purchase ($10/each) at the Candia Town Hall, Smyth Public Library, and any Conservation Commission Member. All funds are used to support the Debra Bell Levesque Scholarship to Barry Conservation Camp.
Check out our Photo Gallery to view the 2017 calendar photos.