News & Events
Candia Conservation Calendar
Pick one up at the library or town hall.
Submit photos for next year!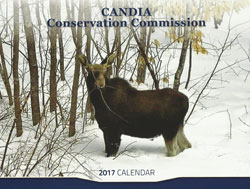 2017 Calendar On Sale Now. The 2017 Candia Conservation Commission Calendars are available for purchase ($10/each) at the Candia Town Hall, Smyth Public Library, and any Conservation Commission Member. All funds are used to support the Debra Bell Levesque Scholarship to Barry Conservation Camp.
2018 Calendar Photo Submissions. The Candia Conservation Commission is looking ahead to 2018. The 2018 Calendar will feature nature photos taken in Candia by Candia residents and we need pictures for every season. If you have some beautiful pictures you've taken and would like to submit them for possible inclusion in next year's calendar, please email your photos to CCC. Include your name and the location of the photo(s) you submit. The deadline for photos will be the September 19, 2017 Conservation Commission meeting.
Check out our Photo Gallery to view the 2017 calendar photos.